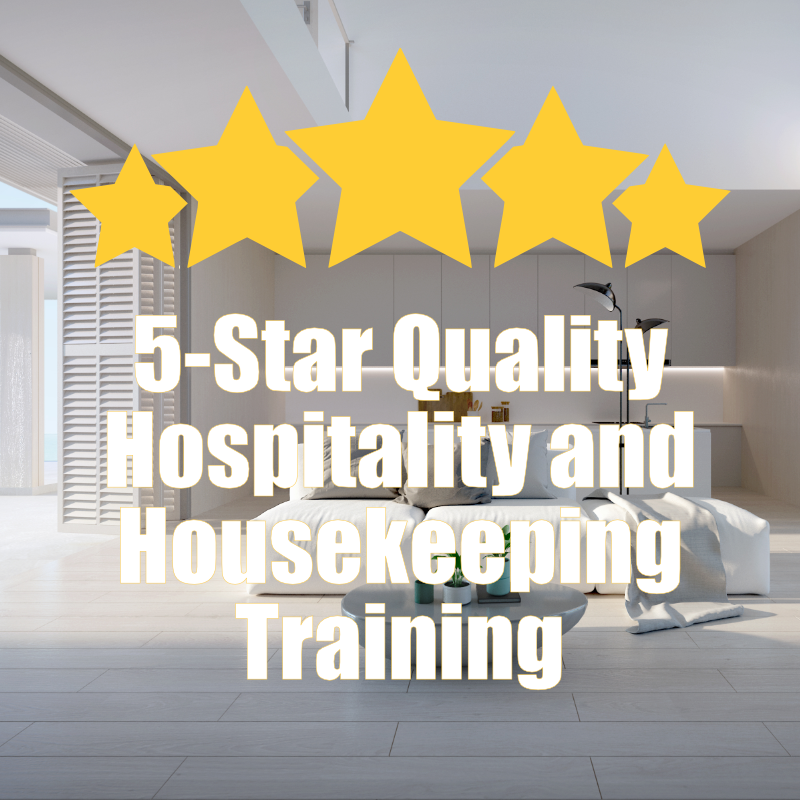 20 Feb

5-Star Quality Hospitality and Housekeeping Training
Overview
For a holiday homeowner, Airbnb host, property management or hotelier, reputation and image is everything. With the advent of online reviews and social media, negative experiences can spread widely in moments. Repairing that damaged reputation can take years.
The first impression the customer 'sees' does not happen the moment they step into the establishment, that moment is the realisation of what that customer expected to find before they arrive. Their journey from research to arriving starts as they read your marketing literature in brochures or on websites or read reviews from other previous customers. As they read and research, customers are developing a mental model of what they expect to find when they arrive, they are forming an expectation of the housekeeping quality and standards.
The first thing the customer sees is the last thing the housekeeper sees.
It is vitally important therefore that housekeepers understand the full extent of those expectations and priorities, and always meet those priorities and seek to exceed those expectations. Housekeeping is therefore always customer-focused, and quality-focused. What differentiates a 5-star housekeeper from an ordinary housekeeper is this customer-focused knowledge, the skills to improve and enhance the appearance of the brand image of the establishment, and to ensure a safe environment for everyone.
Introduction to the course
The primary and overriding focus of the 5-Star Quality Hospitality and Housekeepers training course is the customer, everything revolves around the customer. Whether the customer is a paying guest in a hotel, a resident in accommodation facilities, or a guest, the customer and their expectations and requirements are always at the foremost of this course. Customers demand and rightfully expect quality and standards of cleaning and hygiene to match their expectations as a minimum. The course does not stop there: students are greatly encouraged to adopt continuous improvement in all their working practices to meet and exceed quality in cleaning and cleaning standards.
Quality in cleaning is an all-encompassing philosophy that never ceases, always looking to improve, always focused on the customer.
This course then covers an equally important topic: Good Health and Safety Principles and Practices. Housekeeping is a physical job involving moving, lifting, carrying, and using chemical products. Housekeepers are also directly responsible for improving and maintaining a high level of hygiene for the customer. This section of the course teaches all about physical, chemical and biological hazards that could cause harm to the housekeeper, customers and to everyone else in the establishment.
This course is available as an onsite training session or as full training materials for an in-house trainer. For more details and including access to the delegate workbook, please contact us below.
Contents
The following is a list of topics covered:
Introduction to Quality in Housekeeping

What is Quality?
The Customer Journey
Customer's Perceptions and Expectations
Quality Pyramid

Essential Cleaning Principles and Practices

Impact of Cleaning
Stages of Cleaning
Cleaning Standards
Reviewing and Awareness

Good Housekeeping Practices

Continuous Improvements
6S's

Good Health and Safety Principles and Practices

Hygiene and Infection Control
Understanding physical hazards and how to implement safe working practices.
Understanding cleaning chemicals and how to implement safe handling, working and storage practices.

Optional Topics

Measuring Quality – How to conduct internal cleanliness and hygiene audits.
Internal Training – How to identify skills gaps and deliver targeted training to housekeepers